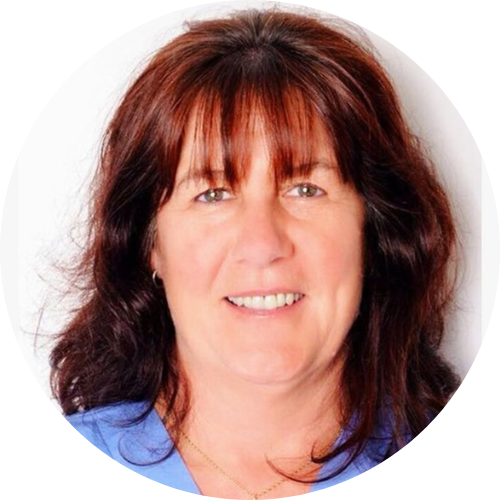 Jayne Nuttall Blake
Registered nurse
An experienced, highly motivated, dedicated and professional Registered General Nurse in both England and Spain with additional Nurse Practitioner qualification. Basic Spanish understood and spoken
I always wanted to be a nurse from being a small child, I realised my dream and started nursing straight after leaving school.I got married part way through my training so my RGN nursing certificate is from the Royal Preston Hospital.
I qualified as a General Nurse in 1987 and initially specialised in elderly orthopaedics.
I had my first baby in 1990 and when I returned to work it was as a practice nurse with a local GP surgery, I was responsible for venepuncture, injections, dressings, holiday vaccinations, family planning advice and also set up clinic for chronic disease management / Asthma, hypertension, COPD, diabetes.
I had my second baby in 1992 and returned to work after 6 weeks and continued to work as a practice nurse. In 1996 I was 1 of the first Nurse Practitioner students in the UK and I went to the University of St Martins in Lancashire where after 5 years part time study I obtained my Bsc Hons degree in Health Studies with a special addition from the institute of Advanced Nurse Education the award of Nurse Practitioner.
I worked as a Nurse practitioner but my area of speciality was Respiratory and I was approached by the pharmaceutical company Astra Zeneca (then just Astra) to set up a National Nurse team helping GP´s with their asthma registers and asthma management.
I worked for AZ for around 12 years in a variety of roles from Nurse Advisor to Nurse manager , the pinnacle of my career was working as their National Nurse Development Manager working with the NMC, the government and Directors of AZ to look at how the pharma industry through nurses could help the NHS.
I left AZ in 2008 as we decided to move to Spain to live.
When I first moved here I worked for a dentist in Calpe – we did lots of routine dentistry and also implant and bone graft surgery.
I left when the dentists wife came back to work and started working at SHA wellness centre in Albir as a Nurse assessing people enrolling on their wellness programmes. I was then approached by one of the doctors to work as a practice nurse at Clinica Britannia in Calpe where I worked for 6 years. I left in 2017 to help set up a new clinic in Altea – Altea Medical Centre where I worked until October 2018 I was instrumental with the doctor in setting up the protocols and ways of working for the new clinic.
I also work for Cancer Care Javea as their lead nurse, I have done this role for 4 years and I have been instrumental in setting up a 5 strong team. I do this part time and it involves liasing with Denia hospital oncology dept, palliativos and day hospital and attending to clients in their own homes.
I am registered in the UK and here in Spain and a member of the colegio of nurses in Alicante and also the royal college of nurses in UK.
I am married to my wonderful and patient husband Frankie and when I'm not working, we enjoy walking, paddle boarding and making the most of the lovely area where we live
Professional Memberships:
Royal College of Nursing Nurse Practitioner Forum 1996 – present
Royal College of Nurses Alicante 2010 – present