ADVANTAGE OF THE FIBRE BRIDGE Vs DISADVANTAGE OF AN IMPLANT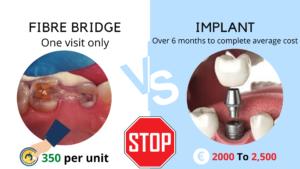 We have had many of patients visiting us saying they have been recommended an extensive treatment plan involving implants, however after discussing it further we have realised that not many patients know what an implant is. They then end up spending thousands of euros and incurring uneccessary surgery and time on solving a problem that has many more solutions.
We have made this video for educational purposes, we want everyone to know there are alternative options available. An implant is by far the most expensive way to replace a missing tooth. Patients believe that due to the cost they are getting a far superior product but this is often not always the case.
If you feel you would like to learn more about this technique or you have been quoted or recommended implants , please call us because maybe we can help.